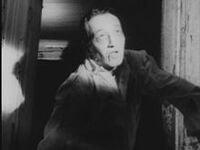 John A. Russo
(born 1939), sometimes credited as Jack Russo or John Russo, is an American screenwriter and film director most commonly associated with the 1968 horror classic
Night of the Living Dead
. As a screenwriter, his credits include Night of the Living Dead, The Majorettes, Midnight, and Santa Claws the latter two he also directed. He has also performed small roles as an actor, most notably the first zombie who is stabbed in the head in Night of the Living Dead as well as cameos in There's Always Vanilla and House of Frankenstein 1997.
Ad blocker interference detected!
Wikia is a free-to-use site that makes money from advertising. We have a modified experience for viewers using ad blockers

Wikia is not accessible if you've made further modifications. Remove the custom ad blocker rule(s) and the page will load as expected.